This image above, is, to me, one of the most important images in film. This is a still from "Thriller: A Cruel Picture" or as it was called here in America "They Call Her One Eye", this image is the great and obscure Christina Lindberg, a woman that kind of gets forgotten in the realm of cinema, even though her impact on popular culture can be still found today. Kind of like a Swedish version of Veronica Lake, not many remember her name, but if you do alittle research you will see just how big the impact she made is.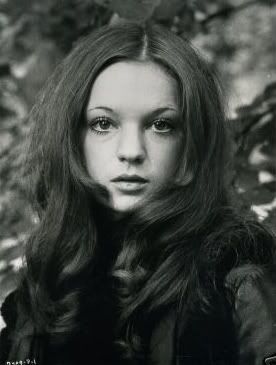 I first came across Christina in the film "Sex and Fury" a cult cinema favorite of the kung fu movie genre fanbase, where I found her to be one of those captivating types that you don't know if you're staring at her beauty or at her ability to kick you in the mouth while still looking like a lady, the later being a common ponderence when it comes to kung fu style action films, even to this day. I then came across her again when researching my review of the film "Kill Bill" with her name and and what I discover later is her most known film "Thriller: A Cruel Picture" being references in alot of reviews and synopsis of the film. This ofcourse sends me on a chance to find about this movie and about her. And I can tell you, I am so glad that I did. Because after years of reading about her and studying her work, and eventually connecting with her through email, I can tell you, she is nothing short of an inspiration. And I mean that from the bottom of my heart.
Now at this point, I feel its important to mention that *most* of Christina's films are what you'd call "slightly blue" meaning they blur the line between art and what some would call softcore pornography, but, to be fair, in 1960s and 1970s European cinema just about every exploitation movie did the exact same thing, with a personal favorite of mine, 1968's "Baby Love" staring Linda Hayden being probably my most used example to back up this fact. Christina was infact alot like Hayden in her years on screen, always walking right along that edge between sexy and pornographic, though I should point out at this point, Christina's films, though they do at times depict what some would consider too graphic for the every day theater sexual imagery, she herself, was never the woman in those scenes, they used a stunt double for her, with Lindberg later stating "I have no problem showing off my body, the human body is a beautiful thing, but I'm not going to let just anyone have their way with it, not even on screen". She also often joked that she was a porn star before there was such a term, which is funny given today's standards for films, most of her scenes would just about make an R rating, with afew of questionable even for an R rating quandary.
I feel it important at this point in time to state that though I do find Christina's work in film to be engaging and captivating in its own darkly unique way, its what she has done AFTER her time in film was over that truly enamored me with this woman. She used her fame and notoriety to market herself all over, there are even some rather sought after print adds for everything from Batteries to record players that she is in, all of which by American standards would be seen as obscene btw. She also spent many years singing, she's done many albums of classical, folk, and pop music, and to this day, she still preforms them all, she also has ventured into television news, at one time hosting a current events roundtable program in her native Sweden, as well as her print work, mostly political editorials on Sweden's leaders and sometimes various issues effecting all of the European nations, she is now however settled into a nice quiet job as editor in chief of the top Swedish aviator's magazine which has a name that I have no idea how to say or spell at this moment, she also has embraced her fans in her later years, making countless appearances at European movie conventions and the like.
I guess maybe thats why I love Christina as much as I do, that take no prisoners don't let anyone stand in your way of what you want, and make sure you use every trick in your bag to get where you want to be in life, mentality of hers. Oh sure, I could say its for the large amounts of nudity or overt sexuality in her work, but thats boring and objectifying to her, and well, she's so much more then an object, she's a truly great person who has done some amazing things. I know that given her rather graphic work, she might not be everyone's cup of tea, but, she is just fine for me, and really thats all I care about.
--
BC