This is going to be a somewhat regular feature on here, where i ramble on about actors, actresses, directors, and the like who are dead, that I miss and feel were taken from us either too soon, or do to illness were forced to stop before they really should have, I think its a neat little segment idea and plan on keeping it going.... so with that explained, lets get into it shall we?
You know who I miss?
Jim Henson
There are not many people who come into the world by means of fame and leave a footprint in the sand as big as the one Jim Henson made, the famed puppeteer and creator of the muppets, has literally left his mark on every human being on this planet, there is not a person alive that doesn't know Kermit the Frog if shown a picture of him, the same goes for countless other characters Henson brought into the world. But please, don't get the wrong idea here, I don't miss Jim Henson simply as a man that created dozens of beloved children's characters, though that is part of it, I miss Jim Henson more, because I feel when he passed on, the world changed. You see, Jim Henson always spoke from his heart, and always told us all to dream, to imagine and dream and if we truly believed in that dream, we could make it happen. And when he died tragically in 1990, I feel as if the world stopped dreaming, take a look at the 1990s, creativity, imagination, innovation, all stopped, and hollywood and all the places like Hollywood through out the world, started to just recycle what has been done before, plot and storytelling were replaced with explosions and graphic nudity, imagination and originality were replaced with recycled movie scripts and casting based on which star is hottest right now. Even Henson's creations, though going on with out him in his honor, seem somewhat less magical and amazing. In a sense, when Jim Henson died, the entertainment world stopped dreaming. Creativity and originality died on May 16, 1990, in New York City, in the state of New York, at 1:21 a.m.
Henson started out in television in the late 1950s first doing puppet work for a short lived morning children's program called "The Junior Morning Show", of which the character "Pierre the French Rat" is recognized officially as the first of what would be called The Muppets, and then not long after its end, Henson was asked to create another television series, he called it "Sam and Friends" and it was about a young bald human puppet named Sam, and it also starred a character that some might know, by the same of Kermit the Frog, however Kermit wasn't called a frog at the time, he was called a lizard. Interestingly enough Sam and Friends was a late night "filler series", where it would literally be 5 minute episodes shown to bridge gaps in late night programing and fill advertizing gaps, the show was an early cult hit in Washington DC, the only city it was aired in, it gained so much fame there were articles and interviews and polls on character popularity, interestingly enough, Kermit came in third to last in the poll of favorite character on the show, kind of ironic given what he went on to become. The show ran for 6 years and evolved from basically just characters lip syncing to popular songs of the day, into full on skits, some of which would be used or expanded on later in other skits on various shows, Sam and Friends also served as the prototypes for many later characters, including Chicken Liver, a prototype for Sam The Eagle of the Muppet Show, and Professor Madcliffe, a prototype for Guy Smiley from Sesame Street and Mushmellon, a prototype of Oscar The Grouch. Sam and Friends also brought Jane Noble into Jim's life, Jane and Jim would later marry, and stay married and she would be with him until the day Jim died.
This is a shot of young Jim Henson with some of the cast of Sam and Friends, already you can see his favoritism toward Kermit even in the earliest stages of the character.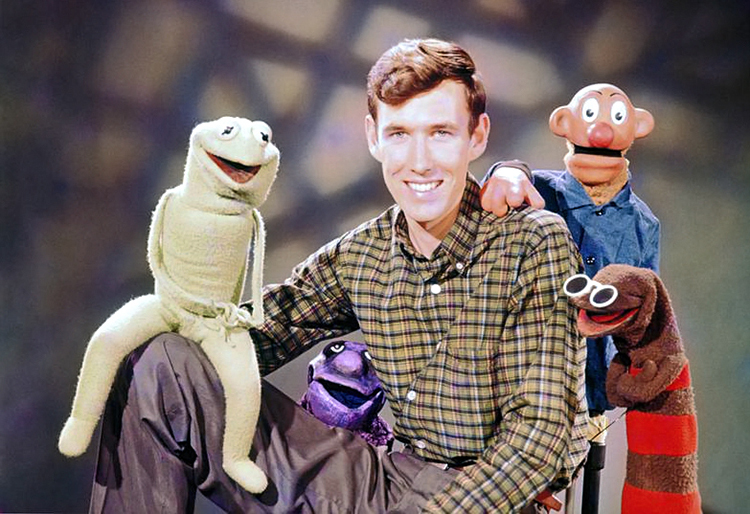 Though Sam and Friends brought many things into Jim's life, success, fame, his future wife and the attention of many, Jim still worked on other things, he did many television adds, and always had new characters and new skits for his public appearances, when Sam and Friends ended in 1961, Jim would continue his talk and variety show appearances, infact it was during this time when Jim appeared on The Ed Sullivan Show, and from the exposure that gave him, Henson was able to earn enough money that he and Jane could move to New York City and form Muppet Inc, which would later become the Henson Workshop, in those early days, some of Jim's most famous works were made, "The Wheel Monster" which was a short film for IBM who's star went on to become Cookie Monster, and "The Cube" for NBC Saturday Afternoon Theater, the movie that inspired the cult classic sci fi film "The Cube" years later, this is also the period when Sesame Street was created. In his travels around the variety and talk show circuit he started to build what would become the core cast of The Muppets. He also met a man named Frank Oz, who would go on to be one of Henson's closest friends, the operator of Fozzie Bear among others, and would go on to become one of the most influential producers in television and films.
"A Boy and His Frog", Jim and Kermit in New York City in the late 1960s, shortly before the creation of Sesame Street, this image gives a look into the mind of Jim Henson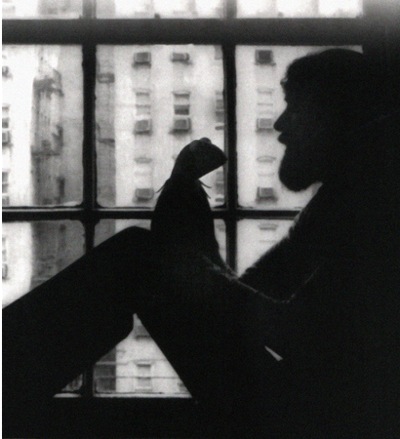 Through the 1970s Henson continued to do what he was doing, advertising, television appearances, television specials, A weekly Segment on the first season of "Saturday Night Live", eventually creating The Muppet Show, which ran for 5 years and many argue is one of the most entertaining television series ever made, from the muppet show, Henson decided to take things up a level, creating The Muppet Movie in the late 1970s, which has lead to many follow ups, the latest being in 2005, and more planned along the way. In the 1980s Henson created many shows, the ironic Fraggle Rock, The Jim Henson Hour and many others, he also created many Christmas specials, which to this day, though rarely seen are considered to be among the best specials ever in the genre of Christmas programing, he would continue in that manor until his death in 1990. Jim died of whats called "toxic shock" caused by a powerful infection, which Henson was told by many doctors was "just the flu", many say he could have been saved but, in his own words "I don't want to bother anyone with a simple infection, far sicker people then me could use their time..", a true giver all the way to the very end, Jim was brought into an ER when he began to vomit blood, he died shortly after.
Jim with the cast of Fraggle Rock, the show most believe invisioned Jim's idea of what the world should be

My first encounter with Jim's work, like many was Sesame Street, followed by The Muppet Show, and Fraggle Rock, and though I loved The Muppet Show and Sesame Street, my first love was always Fraggle Rock, I just love the idea it puts forth and what it stands for. Its just so beautiful and lovely and full of imagination. I will never forget Jim and his life, they helped shape me and my life. I still miss Jim and I probably always will.
---
BC