Continuing where the last part left off...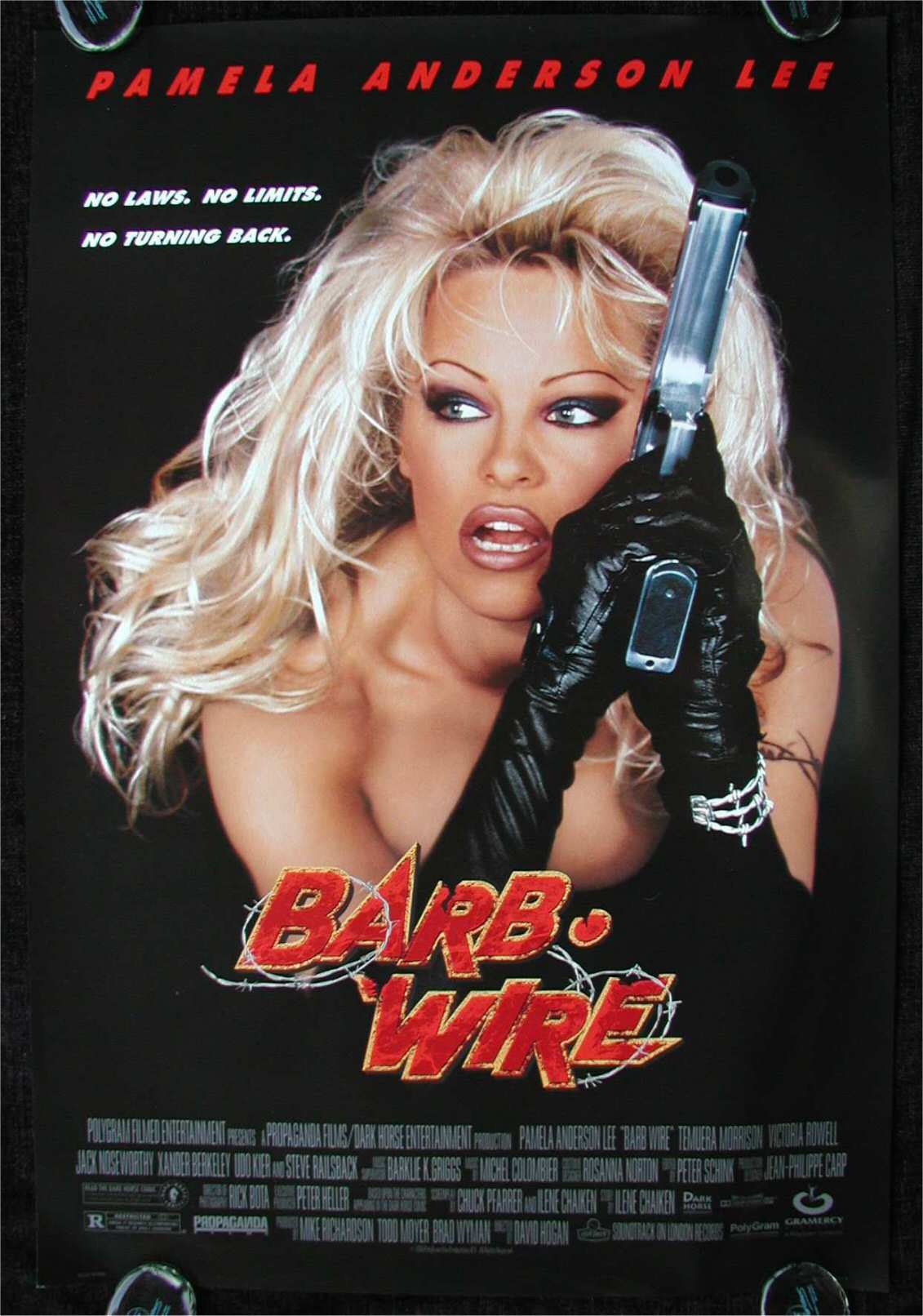 19. Barbwire (1996):
I should have included this film simply on the blatant T&A aspect of it, but I felt with the the rather obvious pillaging of comic books to make hit movies out of happening again, I should include this box office bomb from the first time the movie industry felt that the best thing to do was raid comic book properties for money again. See, back in the late 90s, indie comics were all the buzz, and with films like Men In Black and The Crow being giant hits, the movie industry wanted to see what else they could pillage for theaters, enter Barb Wire. Barb Wire was among the many characters that was created by Dark Horse comics as a means of competing with the super hero genre, they had a world with 4 (I think) major cities, and each city had its own basic style of hero, Barb Wire was from Steel City, where it was full of mob style villains and many vigilante style anti-heroes, the most popular of them, for obvious visual reasons, happened to be Barb Wire, which is why she was picked for film creation when Dark Horse decided to try and expand into movies. The problem with this is, like most of the "bad girls" of the 1990s comic book era, the only reason people liked Barb for her looks and the fact she was always shooting things, apparently back in the 1990s it was concidered X-TREEEME!!!! to have a giant chested blonde in a corset, mini-skirt, fishnets and knee boots shooting machine guns and wearing sunglasses while rocking a long trench coat and sometimes riding a rice burner style racing motorcycle, I never got it, but hey, whatever. The only problem with this really was, no one told the studio that by the time they got this Pamela Anderson headed bomb to theaters, the whole "bad girl" craze in comics was just about over, as was the X-TREEEME!!!! phase.
18. Laserblast (1978):
How many times have you been left completely dumbstruck and speechless because of a film? You got a number? Ok, now, of those times, how many of them were because of just how bad that film was? Ok, you got that number too? Good, now, if none of those times were because of the crapfest that was Laserblast, then shame on you! Or, maybe good job, I haven't really figured out which yet, but when I do, I shall let you all know. Laserblast is one of those films that in written form doesn't sound all that bad, sure the dialog is kind of crappy, but you can look past that if the F/X are good in most cases, but the problem is, you can't in this case, there is infact nothing at all that is redeemable in this film, the acting is horrible, the special effects are just plain sickening to watch, and you really kind of feel like you've just been mugged watching it. I think its biggest drawback of all is its plot, the whole plot of this film centers around a laser gun left behind with the dead body of this mutant killed by an alien bounty hunter (I think) thats found by an outcast loner kid who's teased and tormented at his school and how he uses it to get himself some respect. Yeah thanks for the reminder of that whole kids shoot up schools thing thats so topical these days... idiots.
17. Hercules in New York (1969):
This film only gains points because of two things, yes, its the first time we see future action star turned comedy and action star turned guy thats running the state of California into the ground, Arnold Schwarzenegger (called Arnold Strong here), on film, and because they dubbed over his voice because it was seen as too thick for american audiences to understand what he's saying. The film itself, other then two aspects really is not redeemable value or have any real saving graces, it tells the story of Hercules and how he's bored with life on Mount Olympus so he goes down to earth, disobeying his father's decree that he stay on Mount Olympus, because, well, Zeus is a shitty father and Hercules has daddy issues, so DJ Kool Herc ends up in New York City, because calling the film Hercules In New York and having it based in Austin Texas would be kind of stupid, and ofcourse all the things of the modern world confuse Herc because the gods are stupid and stuck thousands of years in the past, and eventually through all of this mess and over used culture shock joking, somehow, Herc finds love, because why else would a god come down from Mountain Olympus? Certainly not to start a roller disco... oh wait, we'll get to that in another film on the list, sorry, spoilers, anyway, Herc meets this woman and falls in love, and the rest of the film is him using his demigod powers to fight off those sent by Zeus to return Hercules to Mount Olympus, Herc has decided to stay and be in love... the only thing that could have saved this film is if they had a kid who grew up to be Percy Jackson, but alas... he doesn't.
16. Flowers In The Attic (1990):
Ok, in the 1970s there was a rather controversial book that everyone was talking about and was selling out across the united states, it was called Flowers In The Attic and was seen as not only one of the most controversial, but one of the most sexual books of its time, apparently its rather taboo nature of the second half of the book is why. See Flowers In The Attic is two stories in one, the first part of it, is the story of this widowed woman that moves back to her parents very rich estate, where her insane mother gets the idea that to marry her off again, she must make suiters before she doesn't have any children, thus locking and eventually trying to kill, her grandchildren by leaving them alone on the top floor of the estate, which was used as an attic, and the second half is the love story between the eldest boy and eldest girl of the children, and how they fall in love and decide to escape to a life where they can raise the others as their children in safety and away from their insane family. Think about it, that'd be like if Twilight was about incest. Anyway there was debate for years and years and years on if this book would ever make it to the big screen, and alittle over 11 years later word came out that it would, people started buzzing about it all over again, the problem was, no one at the studio had read the book or knew what it was really about, they just saw a classic book to adapt to film, and thanks to the studio gutting this film of everything except the grandmother's treatment and attempted murdering of the kids and their escape, and its budget, and changing the ending, there is a lump of crap that doesn't even resemble the book it was ment to be, no wonder it got show on TV which edited it more and finally aired it almost two years after it was filmed, and is still in somewhat heavy rotation on the lifetime movie network, but hey, they show The Legend of Lucy Keyes too, so... yeah...
15. Showgirls (1995):
For some reason, hollywood seems to think that if you add nudity with overt sexuality flaunted in front of the viewer, is somehow going to bring people into theaters more so then an actual plot. And though this movie had more nudity then one could ever really need to ever see in any one film (seriously, check the ice scene, you'll know what I mean), what it was lacking was infact, a plot, not even a steamy, sultry Gina Gershon, who at times is dirtier then she was in the film Bound, or the fact it was promoted as Elizabeth Berkley breaking out of her teenager image she gained as a member of the cast of horrible television show, Saved By The Bell, opting to take this role and break away instead of going off with almost all of the cast to do that shows "college years". The problem is, for Elizabeth, both paths were doomed to failure, the show she passed on bombed, and this film bombed out of theaters faster then Madonna's book "sex" bombed out of bookstores, like twice as fast actually, this has left Berkley with a scar on her career that she has really yet to recover from or find a solution to, some say thats a shame, some day she never had a chance in the "real acting world", the debate shall forever linger on, much like the stench of this bomb, however thankfully, Gina Gershon has recovered nicely and gone on to become the walking pile of awesome that she is today, so I guess thats a silver lining.
14. Postal (2007):
And finally we've come to it, an entry by my arch enemy, if you will my nemesis in the world of film and good taste, ofcourse I am speaking of Uwe Boll, the insane german director who picks fights with Micheal Bay, boxes 18 year old blog critics, and claims he's better then such great directors as Cecil B. De Mill, D.W. Griffith, James Whale, George Lucas, and many more, the man who is a living legend only with in his mind, but in reality makes Ed Wood's movies look like Casablanca. It was hard to pick just one film of Boll's to use for this list, but I chose Postal for a very distinct reason, it has to be the stupidest attempt he's ever made at trying to make a film, let alone a film he says "is funny". Here we go, this is the plot, you ready? Ok, so World War 3 happens, and the world is left a nuclear waistland, there are survivors, as one would expect, who have banned together under the leadership of George W. Bush, Osama Bin Laden and Mini-Me from the Austin Powers films to find a safe place to live out their time. Yes, you read that right, this is basically a buddy comedy meets a road trip comedy about George W. Bush, Osama Bin Laden and Mini-Me as a trio with a plan to take their group to the promised land. Yes, that is seriously the plot, Boll thinks its funny to make movies where the worst president in american history, the most wanted man on the face of the planet, and a midget are all the best of friends on what is basically a road trip film. Yeah, see, people say Alone In The Dark and the Bloodrayne films are by far Boll's worst work, but I think this completely unfunny and completely wrong on all fronts "comedy" over shadows them by a mile.
13. Rhinestone (1984):
This film is wrong on many levels, but I will simply give you an outline of the plot before I go any farther, because, seriously, you gotta hear this.. Ok you ready? Dolly Parton is a famous country singer who has also found many other talents in her business, she brags to some record executive that she could make any one at all a country star because of her talent and knowledge of the business and what people want, as well as her eye for talent, record executive person stops staring at her giant breasts long enough to put a wager with her on that statement, a wager thats somehow either boob or stories about life in the Ozarks related, they agree on the bet and Dolly sets out to find herself a person she can turn into the next big country star. Enter Sylvester Stallone, cab driver, mumbler, and all around wrong choice for casting in a role that doesn't involve boxing or shooting guns while grimacing. Dolly, probably delirious with pain from walling around with her giant chest on such a small body, or maybe out of self hate from wearing a cowboy hat and frills, decides to use Stallone as the one she's gonna make a star. Which leads too, yes you guessed it, Sylvester Stallone singing country music. Yes, you read that right, Sylvester Stallone, SINGING country music. You know, there are so many things wrong with this film from concept to creation that it just boggles the mind, it really does. I mean honestly, Stallone is worse in this then he was in Party At Kitty and Stud's... Yeah, now think about that.
12. Untamed Youth (1957):
Normally, I love 1950s cheesecake films, mostly because they're promoted as daring and shocking, and thrilling, but really they're only about as shocking as a PG-13 movie here in the states, which in most cases is a chuckle at best, but I don't know, for some reason Untamed Youth just doesn't do it for me. Its not that its got forgotten grindhouse goddess Mimi Van Doren, or that plot is worse then most of those women in prison movies, or that the rest of the cast is just so painful to watch as they fumble through their badly written dialog or what, I just don't like this film. The plot is your basic youth repressed by the older people that "don'get them" or whatever the issues the young had in the 1950s, it tells the story of two girls sent to a prison farm to do a one month sentence and how they "turn the place upside down with their youthful revolt" or whatever the hell they called it back then. Thats seriously all this plot is, just your basic excuse to see attractive pin up style girls acting wild and crazy, and guys using outdated even by that period slang about each of them. Its not so much that the film is overly bad, I mean it is bad, but its also boring because of it being so bad.
11. Cabin Fever (2004):
Alot of long time followers of my work know this film and knew it had to be here, if for no other reason then it was the review that defined my sarcastic but informed style of review for me, and also allowed me to give the world this enduring quote, "I know there is no god, I know there is no devil, and I know there is no blair witch, because if any of them were real, when I prayed to them to save me from this pantload, none of them came to my aid.". For those of you that don't know, Cabin Fever is this horrible attempt at a film thats basically about these drunken idiotic college kids that get a cabin for the weekend in the woods, and after beating a homeless man that lives in the woods to half to death then lighting him on fire, all because he asked for their help because he was very very ill, they all come down with his mysterious illness, which basically eats away at their insides, making the flesh as thin and easy to rip as rice paper, and blood to just poor out of every single hole in their body at any given time, its like Ebola but worse, way worse. This whole film's real issue is the fact that its just so disjointed and none of it really makes sense, you have the kids at their cabin, you've got the dead guy in the town's water supply, you've got the entire small town and the guy you think is racist till the very end of the film, its just dizzying how boring and sickening this film really is. Plus its big star was Ryder Strong from the forgettable series "Boy Meets World", this was supposed to make him a "big film and tv star" following the end of that show, guess what? it didn't.
End Part Two......
-----
BC