Quentin Tarantino Doesn't Know How To Spell
No, Seriously, Thats How Its Spelled
Before I get into this, seriously, look at a movie poster, the name is spelled wrong! Ok now that I've gotten that out of the way, I would to state that I do love Quentin Tarantino's work, really I do, sure he's an annoying uppity geek that probably still believes in Santa Clause, but normally, I do love me some of his films. Its with that known, that I have to say, I really didn't care much for this film. Its not really a case of me loving the original to much, honestly, other then me, I don't think anyone loves Grindhouse more then Tarantino, and if anyone could make a loving remake that isn't a remake of such an iconic grindhouse nazi killer, it would be him. But sadly, its just lacking for me. Lacking alot. Now don't get me wrong, Inglourious Basterds isn't a bad film, its just trying to be too many films at once, which is a common issue with Quentin's work, example, Kill Bill Vol. 1 and 2 combined tried to be Thriller: A Cruel Picture, both Lady Snowblood movies, and like 12 Shaw Brothers kung fu films all at once, as always, Tarantino did this in homage, not mimicry, and though I love the idea, sometimes, like with this one, it just doesn't fully work right for me. Don't get me wrong, again I state its not a bad film, its just disjointed and kind of confusing as a whole.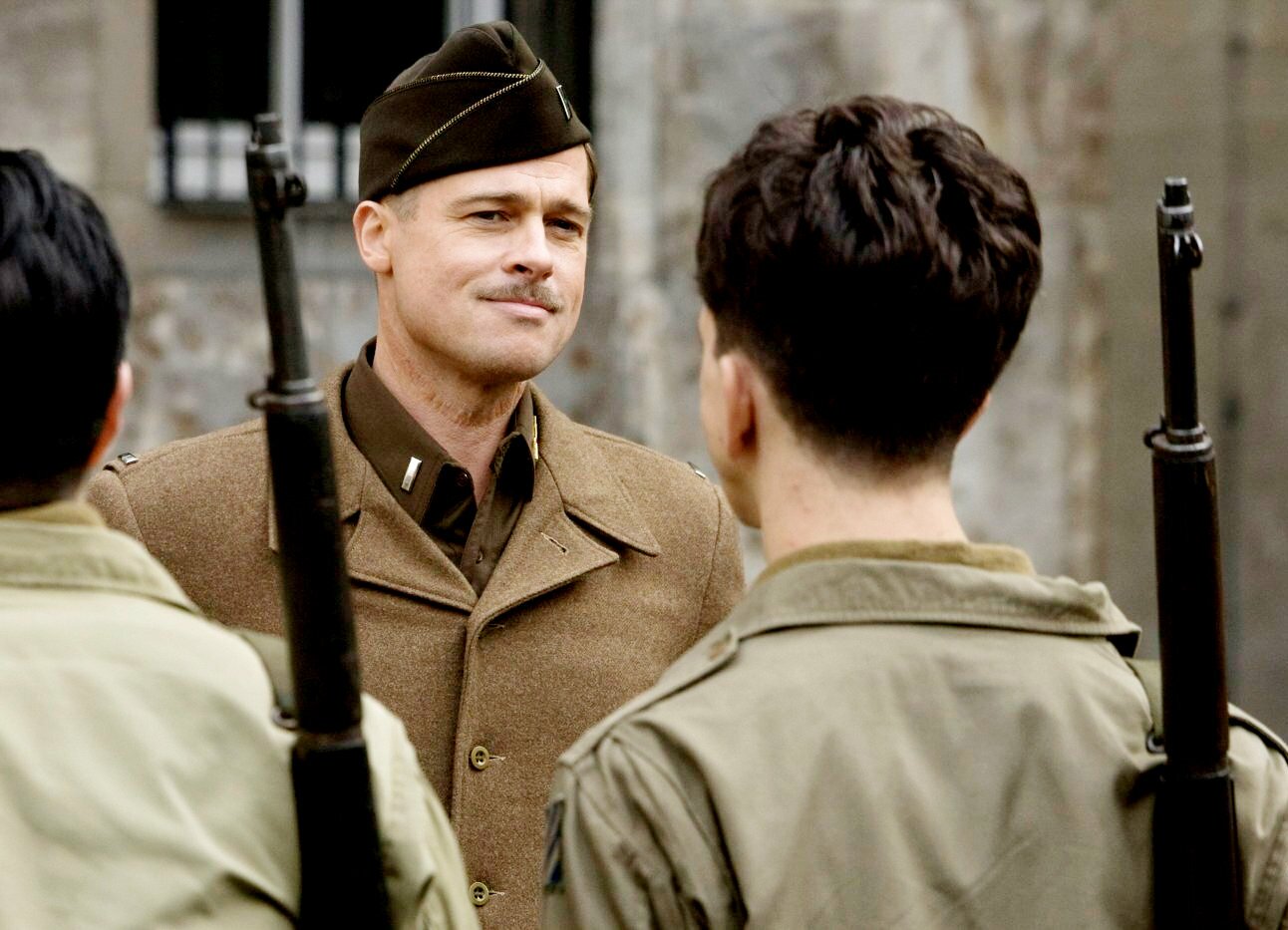 The major issue I have with the film is the fact very little of the film is in English. Now I have no issues with foreign films, I love them, I have no issues with subtitles and the like, but your average american isn't going to wanna go to the movies to see Brad Pitt and Eli Roth (looking alot like Zachary Quinto) killing Nazis, and only get them for maybe 40 minutes of the film at most will put them off the film, and the rest of the film save for two scenes that doesn't involve them be in either French, Italian and German with subtitles won't do many favors to an audience that weren't told they were going to see a non-English film, especially when there is a scene in the middle of the film thats in German, has almost *nothing* to do with the rest of the film save for the fact it introduces a German actress who is in fact an a spy for the Americans, and grinds the whole film to a halt faster then the dark area in Yoda's swamp halted the story an viewer interest in Empire Strikes Back, and trust me, thats something.
The plot is completely different then the film most see this as a (sorta)remake of, where in the 1977 film, in that the bastards are sort of like the dirty dozen, a group of soldiers being sent to military jail for various crimes against their higher ups, that are freed by a military strike by the nazis and they embark on a black ops mission into occupied france to get a german gyroscope prototype. The 2009 version sees The Bastards formed in 1944 as a black ops unit of all jewish soldiers with the task of literally running ruckshot across nazi territory as a paranoia agent, where in they slaughter, and then scalp nazi units with out mercy, they were lead by Aldo Raine who instructed them to creatively and with out regard, kill german military, leaving only one soldier alive, who they would etch a swastika into their foreheads with a bowie knife, as to leave a scar that marks them for life. Along their quest they get mixed up in a local resistance plot to kill Hitler and the high up members of the SS surrounding the debut of a film by the head of the german film industry about a recent german war hero, both plots with no idea the other is going on, all the while a german SS officer called "The Jew Hunter" forces himself into the involvement of both plots for his own selfish needs and gains. Its like No Country For Old Men, but with nazis and alot of foreign languages.
The film itself isn't really all that bad aside from the fact its stars are really only in the film for the final act and afew scenes before it, which given the way the film was promoted, really wasn't all that helpful to its cause, but still allowed for a good performance at the box office. The acting, which as always with films by Tarantino was incredible, and beyond what most would assume these actors can do, even if you find yourself laughing at Brad Pitt's attempt at a deep southern accent and how much like Hitler Martin Wuttke really looks, but still the wound that does the damage to the viewer is how most of the film isn't in english, but if you look past that you will enjoy this film greatly, it really did give the feel of campy bloody violent grindhouse fun, and should be enjoyed as that, and if you take the chance on the film and give it a watch, hopefully thats how you'll see it, and enjoy it.
and if you're interested, here is the trailer...
----
BC