You know who I miss?
Maila Nurmi
Among those very few who remember who Maila Nurmi was, most of them remember her from the cult classic film "Plan 9 From Outer Space" where she took her famous alter ego, late 1950s Television host and original gothic girl Vampira, to the silver screen for that one and only time. Others know of her from the controversy surrounding Cassandra Peterson's rather blatant rip off Elvira. Or she's remembered as the seller of old hollywood memorabilia and did clothing making and design for some of the most famous people in hollywood through the 60s and 70s, But not me, I personally remember Maila as my friend, I was lucky enough, that via emails near the end of her life, become friends with Maila, an honor I never took lightly. She was amazed at my knowledge of her career, and of hollywood in general. I used to look forward to her emails telling me of times long past, when Hollywood didn't forget who she was, and of her behind the scenes life after her time in the spotlight was over. She was, and still is, the perfect woman.
Most don't know that Maila started out her life in Ohio, she eventually ended up in LA where she modeled while working many different jobs to make ends meet, she even acted when she could get stage roles, infact she was fired by Mae West from a stage show because West believed she would upstage her, she did many other plays, mostly what she called "horror themed midnight shows" in small theaters no one's probably ever heard of, mostly playing the sexy seductress witch or vampire, or often the beautiful dead too soon ghost that someone lusts for, she also spent most of the 1950s posing for pin up magazines, most of which are as pricey to own as those that Betty Page was in at that time.
Maila as Vampira in one of her more known and classic poses....

It was in the late 1950s that Maila discovered her alter ego Vampira, at a high profile costume ball that her agent had gotten the two of them into, Maila showed up dressed as Morticia Addams from the ever popular Addams Family comic strip that ran in The New Yorker by (my personal hero) the legendary Charles Addams. Maila worked the room as you do at a party of that nature, making friends introducing herself, getting business cards, the normal things you do in hollywood in the 50s, her unearthly beauty and unique style caught the eye of Hunt Stromberg, Jr., a man who at the time ran KABC-TV a Los Angeles Television station, he had the idea to do a show that aired horror and sci fi films, but he wanted something different for a host, someone unique and different, someone that could play a character who was just as sci fi and horror as the films they would be presenting, a concept that had never been done before on television, he saw one eye full of Maila and he knew he'd found what he was looking for, and after working to room abit to get her phone number from someone, Hunt got intouch with Maila, who made up the character of Vampira on the spot after hearing what she was being offered, and after fine tuning the character and working on some things she felt would be best suited for the character and the show, on April 30, 1954, at 11pm KABC-TV aired a preview show called
"Dig Me Later, Vampira"
, which garnered incredible ratings for an early television program, and the next night, May 1st, 1954, KABC-TV aired the first episode of
"The Vampira Show"
.
The classic opening to The Vampira Show, careful this gets LOUD

I can only imagine what it must have been like to see that, to see her float down that dark foggy walkway for the very first time, to let out that blood curling scream and then sexy little giggle as she did, just gives me chills thinking about it. You have to understand something at this point, the show that Maila did, that style, had at this point never been done before, there was never a television show that showed a movie of these kinds, with a character who would fit into them as the host, I know that outside of America and parts of Canada this is a completely foreign concept, but shows like Elvira's Movie Macabre and many others that followed the same format are all the children of The Vampira Show, she was the first, and many say, the greatest of a forgotten genre in American and Canadian television. After the intro, Vampira would then sit on her victorian style couch, encrusted with bones and skulls, where she would post seductively while introducing, and mocking the film she was about to show, she would also appear before and after commercial breaks, mostly mocking the film, or she would do a skit, reading fan letters from her mailbag and mostly making fun of them, and encouraging her fans to write for epitaphs, not autographs, nost of her jokes involved wordplay of that nature, switching a common word with a darker more scary word that sounds like it, it was brilliant for its time period, and would be emulated to this day, most noted in HBO's television series Tales From The Crypt, where The Crypt Keeper would speak in the exact same style.
Vampira on her trademark couch in 1955
Though the show became a massive hit, gaining huge ratings inspite of its late time slot, and even gaining Maila articles in Life Magazine as well as appearances on LA filmed television shows that went out across the ground, and Maila quickly gaining fame as the first macabre sex symbol, as well as being friends with such famous people as Marilyn Monroe, Elvis Presley, and at separate times dated Orson Welles and James Dean, both of whom spoke of her in a mystical and magical way. Inspite of all of this, in 1955, after Maila refused to sell the rights to Vampira the character to ABC, for which they would then be able to broadcast the show nationally, KABC-TV canceled The Vampira Show, after only one year, it would later be revived briefly, its believed that from this revival period is when the only surviving episode of The Vampira Show was aired, the only episode having been restored using the same digital set up that restored such shows as Dark Shadows and other programs that went out live but at the time had no copies made for later airings. After a short while, and creative differences, Maila once again took her alter ego off the air, and quietly returned to life of an ordinary person living in Los Angeles, she was found working as a carpenter in 1961, and would also do plumbing and floor repair, a far cry from her years at the top of the world. Not long after that, Maila would open
Vampira's Attic
in a prime location on the just starting to come to life Melrose Blvd. where it would become an iconic location and must see destination when visiting Hollywood, Vampira's Attic would be an antique store specializing in hollywood memorabilia as well as selling art and clothing made by herself and other famous people who she knew from her time as a top billed sex symbol and cult icon, she worked there until she was too sick to continue, which she died shortly after, it is to my understanding the store is still open and run by her assistant, to whom she left it.
Another classic Vampira Pose, from which she would encourage people to write in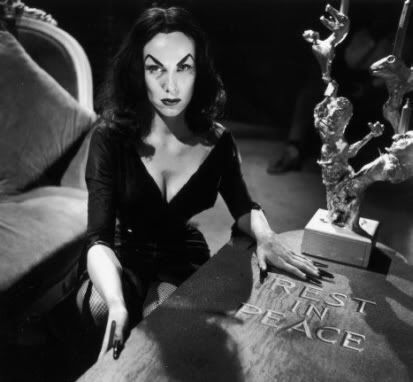 I met Maila in late 2006, when I sent and email request to do an email interview with her, expressing my fixation and love for Vampira and for her personally for all she's been able to do in life, from that moment on, we emailed back and forth, and became good friends, exchanging emails afew times a week, we would joke and complain about how hollywood has changed so drastically and she would tell me of her days at the top with the lights on bright, and the whole world looking at her, she'd tell me of some of the famous people she knew, in her life, and of how she missed them now that they were gone. She once said to me, "I truly am Vampira, because I am the walking dead, it hits me sometimes, when I hear an Elvis song or when I see Orson on Jimmy's movies on television, that they are gone, but I am still here. Thats a very sad through to hold onto, knowing all of your friends are dead, but you live on.". I never realized just how much she'd gone through till that point, I remember I replied back with "well, I'm not as famous as them, but, I'm still your friend", I remember she thanked me for that. I truly felt as if it made her day. I never did make it out there to see Maila and her store, and to get a tour of "Vampira's Hollywood" as she always told me she would give me, my schedule just never allowed for it, and though looking backI wished I had, but reflecting on that little over a year that I had gotten to know her, and become her friend, I was able to realize just how lucky I was, to touch a legend that time tried to sweep away into the sea of forgotten time, and for her to reach back and touch me as a thank you for giving an aging beauty a chance to relive her long ago time all over again. Maila died 12 days before my 30th Birthday, she had sent me an email afew days before teasing that she had a surprise for my birthday for me, and I would have to wait to see what it was. I never did get to find out what it was. Personally, I'm ok with that.
One of the more sexy poses from the Vampira promotion material

So again, I will say to you, as i did the day you died, good bye Maila Nurmi, my greatest obsession, my greatest teacher, and my greatest inspiration, you taught me that its ok to be darker then the others, and to want to sit in the shadows while the others play in the light, and that just because you are one that moves among the darkness, it doesn't mean you can't do good. So please, rest in peace Maila, I will miss you, and love you for all of time...
---
BC